Chester Cheetah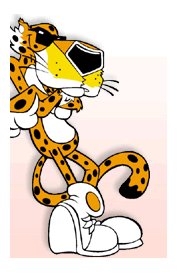 Chester Cheetah is the ideal candidate for president. He will turn the oval office on it's head. His plans to harness the power of cheese are unprecedented. Keep Chester in mind when you are casting your vote. Remember, a vote for anyone else is "Dangerously Cheesy!"
Chester Cheetah write in poll: 37
Out of the users that have visited this site 37 out of 66347 say they would write in Chester Cheetah if they knew the write in would help get him elected for president. (Not every candidate is registered/eligible for write in votes in every state).
---
Comments for Chester Cheetah
Dale - 03/04/2016
Got my vote
---
Comment on Chester Cheetah
You must be registered to comment. Register here or Login